Help for Family History researchers
This site provides maps of the Great War covering most of the British and Commonwealth areas of operation. Some areas are covered in great detail, some not, all according to the scale of activity in those areas.
Finding a town or village
If a Great War map of a town is needed all you need do is click on Find Locations:- Modern Locations for that town and choose a map whose date best suits your available information. As usual in family history, spelling is sometimes troublesome especially with Flemish names so try using both modern and historical names. The Third Battle of Ypres is commonly known simply as Passchendaele after a small West Flanders village captured in November 1917 but that town is now called Passendale. Being near a border not just between countries but languages as well, spelling differences are common, not least Ypres itself. Ypres is commonly used in English and French but the town is now officially known as Ieper although many soldiers knew it as Wipers during the war. If you cannot find the town on this site you might first try Google Maps, that site lists many older names along with the current ones.
Finding a trench, camp, redoubt etc.
If the point being looked for is a named trench, camp, redoubt or other place with a temporary Great War name then that is also simple to find under Find Locations:- Great War Locations from the main page. This searches a comprehensive list built up over years by volunteers. Other lists of these often obscure places are available on the internet. See below. It is worth trying a number of different spellings etc. Some trench names are not unique across the battlefront. A search for Cavalry Trench will yield two results a fair way apart but there were other trenches of that name not listed on this site. (Search results for Cavalry trench gives map references 51b.O.14.a and 57c.W.18.b). To find which is most relevant to your research it will be necessary to have some idea of the area of operations. The search result will show the name and a map reference, more on that below. It is important to realise that when a location of a trench or other feature has been found, the map displayed may not show that feature. Although the list used contains the location it does not contain the date at which the feature was created. If that happens, it will be necessary to search for maps of the same sheet number but different dates.
Finding a map reference.
There is a comprehensive guide to reading Great War map references on this site. For family history purposes this level of detail may not be required because this site uses sophisticated mathematics to resolve a full trench map reference into modern day coordinates suitable for modern maps, GPS etc. These are known as WGS84 coordinates, i.e. latitude and longitude. For a map reference search to work on this site you must supply a full map reference; sadly some sources of such references give only a partial reference. A full map reference must start with the sheet number such as 51b in the Cavalry Trench example. If the reference is truncated this site cannot resolve that point because a reference without a sheet number gives only a point within one sheet grid and there are dozens of map sheets that cover the battlefront.
A full map is separated by full stops and will have six parts.
Sheet number
Large lettered square
A smaller square within that square in the range 1-36
A further subdivision into 4 quadrants; a; b; c or d
Distance East within squares a; b; c or d
Distance North within squares a; b; c or d
Gives a point to within
51b
O
14
a
5
6
50 yards
or
51b
O
14
a
57
62
5 yards
51b.O.14.a.5.6 gives a point on the road between Arras and Cambrai with a precision 50 yards. 51b.O.14.a.57.62 gives a point more precisely, to within 5 yards. The differnce is in the final two numbers.
If the sheet number is missing it will be necessary to find that using other locations near the point of interest. This can be found using the Great war grid available as a choice in the control box on the top left of the main map display.
If the last number pair is missing as the Cavalry Trench example, that implies that the reference is not very precise but to find a place on this site will require a full reference, so simply adding false values such as .5.5 to the end will get you to about the right place, in this case, next to what was farm buildings, now just a field by the road. A reference without the last two numbers as used in some documents simply means the point is with 500 yards, good enough for some purposes.

Just as now, some people during the war did not stick to the required standard. The map references in this odd example should be written as X.4.d.35.80 and X.4.d.40.97 where 35 means 3 ½ (3.5) and 97 is close to 9 3/4 (9.75) .
The sheet number is still missing but elsewhere in the source it gives this:-

So the references are 57D.X.4.d.35.80 and 57D.X.4.d.40.97, both in the village of Pozières right in the middle of the Somme battlefield of 1916. The S.E. is not required, just the sheet number.
See the comprehensive guide for more information.
Some sources such as the Burial Returns published by the Commonwealth War Graves Commission give the full map reference which is helpful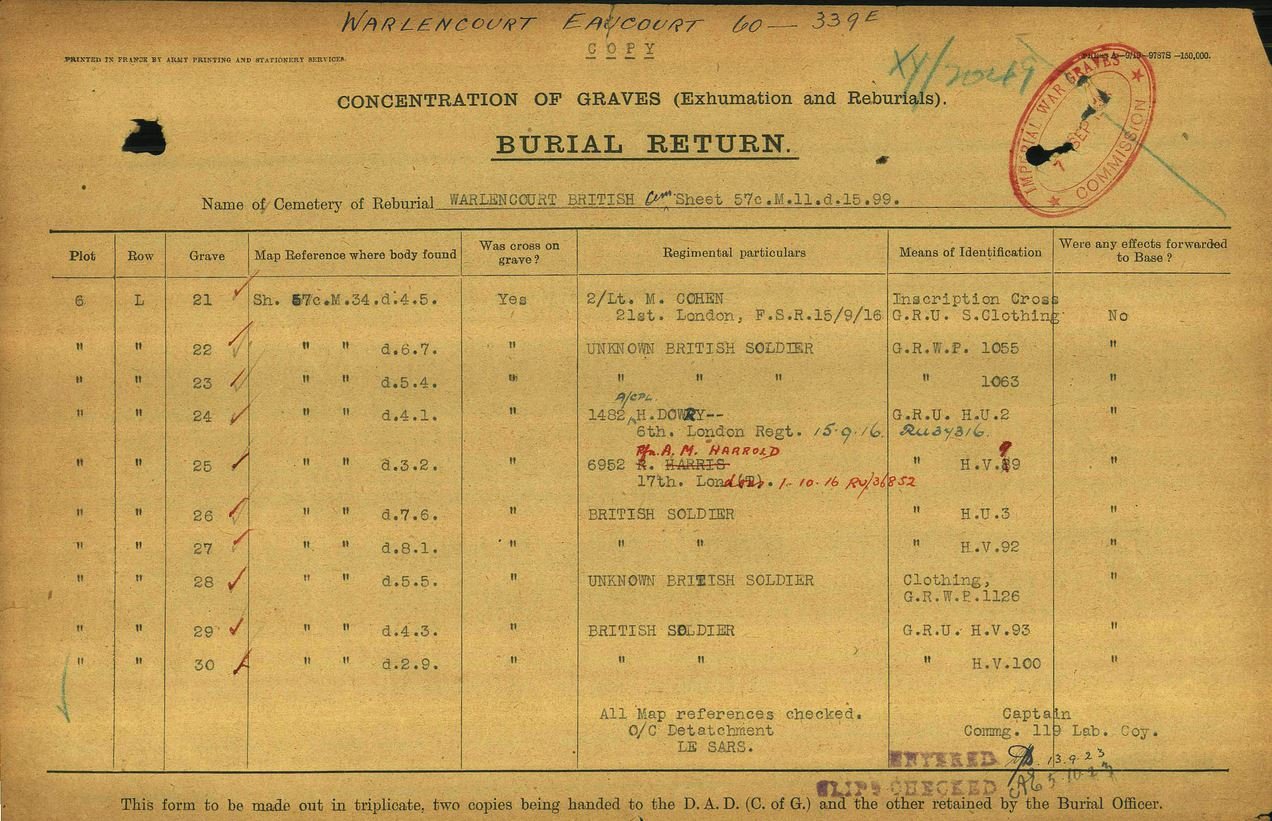 But this is not always the case. The next example gives some points but the map sheet number needs more work to be sure. The men were found at the points listed and buried in the Hooge Crater cemetery at Zillebeke. A quick check in Find Locations yields the sheet number for Hooge or Zillebeke is 28 in this case but care is required here as it only implies the points where the bodies were found were nearby to Hooge. It is very likely but some men were transported some distance to a cemetery with more space so to be sure it would be necessary to see the man's unit War Diary to find were they were fighting when he died. Even than that is not proof as the return shown here is for exhumations quite a while afterwards. However, being close to the listed cemetery and without further information, in this case sheet 28 seems likely.
In that case Private J.C. Haywood is assumed to have been found at 28.J.20.d.5.1 to a precision of 50 yards of the actual location and 2.5 km from the Hooge Crater cemetery. This distance can be found in the main map screen using the measuring tool.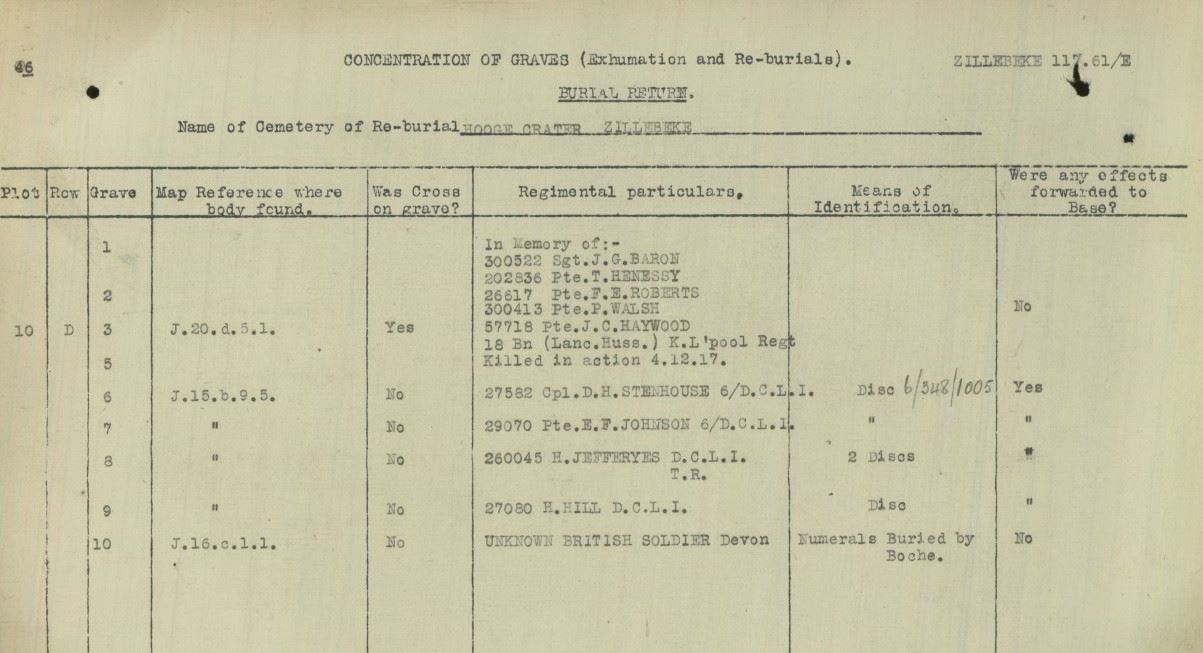 Georeferenced maps
Of the approximately 7,000 scanned maps in this collection, over 500 have currently been georeferenced, i.e. they are available here superimposed on modern maps or aerial imagery. Your search may yield one or more of these but more will become available for download only as the project progresses. These are listed under Find Locations:- IWM Assets.
More information
A very detailed treatment of trench names and a large list of locations is published in Peter Chasseaud's book Rats Alley, ISBN 1-86227-276-X. This list forms the basis of the location search at the McMaster archive at https://library.mcmaster.ca/maps/ww1/ndx5to40.htm
Help v 2.1